EXCEPTIONAL ATHLETES VIDEO QUALIFICATION
Any team with Exceptional Athletes that would like to receive a bid to perform at the 2018 Cheerleading and Dance World Championship may submit a video for qualification. Five (5) Cheer teams and five (5) Dance teams will be selected to receive "At Large" bids to exhibition at Worlds.
Age and Team Size Requirements
There is no requirement for age or number of teams with Exceptional Athletes on the floor. All athletes must be listed on an official USASF Roster from the USASF Member Event Producer Sanctioned event, which will be utilized at your World's roster appointment.
Video Submission Requirements
Teams may submit an unedited performance from a USASF member event producer's sanctioned event. Deadline for submission: Thursday, March 1, 2018.
Entry Fee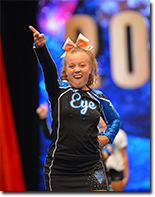 Each video entry fee is $50. You may submit as many videos as you like, however only one team per program may earn a bid.
Selected teams that receive "At Large" bids will be posted on USASF.net on March 8, 2018.
How to Qualify
Click the link below to complete the entry form, provide payment, and to upload your video. Be sure your video link is operable!
Click here for Video Submission Form
Video Submission Form
Helpful Tip
Let your Event Producer know ahead of time that your team with Exceptional Athletes will be qualifying for a bid to The Cheerleading and Dance World Championship and will need a copy of their performance on DVD/flash drive before you leave the event. In many cases, the video staff can pull your routine after your performance and save you the wait time.